I'm having a hard time comprehending that Easter is on Sunday! It seems like 2013 is truly flying by. I find myself still writing 2012 sometimes....but that could be because I rarely write out the date. SAHM problems.
But the weather is beautiful and Spring is in full force here and I'm looking forward to a nice Easter with the kids and their Grammy and Papa. I'm so glad to have family here in Nevada. Hey Mom! Sure you don't want to move here too??? Please!? :)
For our Easter Play School I decided to try something new. A Pre-K pack from Over the Big Moon. I've seen "packs" on Pinterest and the boys are getting to an age/level where I think they are ready to do some of them. Read on for more.....
Books -
What is Easter by Michelle Medlock Adams
This is a GREAT book if you are interested in teaching your kids about the religious meaning of Easter....but are ok with celebrating with the bunny too. Before I had kids I said, no way no Easter bunny. But I found that I couldn't take away that experience from my little guys and I am confident they will learn to know that the most important part of Easter has nothing to do with egg hunts and jelly beans. This book is a great first step for the youngest of kids.
It's Easter, Little Critter! by Mercer Mayer
I love these books, they are nostalgic for me. And the boys love looking for the mouse and the spider (Yuck! says Aaron) on every page.
Owen's Marshmallow Chick by Kevin Henkes
A cute little book about a mouse who enjoys his Easter candy but cuddles his marshmallow chick. Very sweet.
And Most Importantly!!
We are "trying" to read the
Jesus Storybook Bible by Sally Lloyd-Jones
. My inspiration (I had never heard of this Bible before) came from
In Lieu of Preschool
.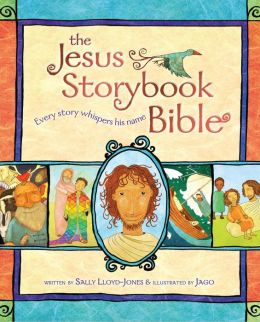 I love the book. It is a great "Bible" written in more of a story-telling type fashion. Every story points to Jesus in a very enlightening manner. But, admittedly, I am getting more out of reading this than the twins. I try to read a chapter a day and sometimes they listen, and sometimes they don't. But that is ok. We are going to make a tradition of reading it each Spring and I know that they will come to enjoy it and take away a lot from it as they grow.
Activities -
Over the Big Moon Easter Pre-K pack
- I really like these packets. They are free and easy to download and this one is huge! It has 31 pages. I was able to choose a lot of different activities to do with the boys that I thought were at a good level for them.
I printed out my favorites and laminated most of them. I laminated two puzzles, the size sequencing baskets, and one of the pattern sheets and attached magnets to the pieces so the boys can use them on their large magnet board in the playroom.
I also laminated and cut of some of the vocab cards to play memory and matching games.
Watercolor E is for Egg craft - In doing our Easter craft I decided to go about it a little differently than usual. Instead of doing the whole thing at once, this time we are doing a little every day. My kids get very excited when I ask them if they want to paint, color, use stickers, etc....but they don't stay at the activity for very long. So I decided to finally learn from their cues and just separate the activity into steps.
For this one we are decorating an Easter egg to put in our alphabet books. The first day the boys painted some paper with watercolors. This was their first time using watercolors and they did great!
Once the paintings were dry I cut them each into a large egg shape. Over the coming days we'll continue to decorate them with stickers, stamps, whatever the boys want, then I'll glue them to cardstock and label them, E is for egg, for the books.
Easter Egg Dying - We are doing this today with Grammy! We are going to use an egg spinner I picked up in Target that I thought the boys would enjoy at this age.
Easter Egg hunt - Just a small one in the backyard on Sunday. :)
So that is about it! No church for the boys, unfortunately they still can't handle it. But I am excited to be able to go with my MIL while Papa and Daddy watch the boys. Hopefully they'll be watching them play, not watching them eat too much candy.
Have a very happy Easter everyone! Or if you celebrate Passover and made it this far....Happy Passover too. :)